Rutger Bregman (2017)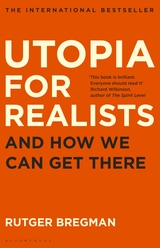 Bregman's thesis in 'Utopia for Realists' is one that I place squarely alongside the likes of Raymond Kurzweil, Yuval Harari, Steven Pinker and Matt Ridley as relying on essentially the same drastic normative fundament.  In consequence, these thinkers, though steeped in the trade of widely different disciplines, all essentially conclude that things are basically going pretty great on planet Earth.  Reams and reams of statistics fill chapter after chapter to belabor the apparently indomitable point: average income is up, many women are now voting, infant mortality is down, smallpox is gone, everyone has cellphones, … testimony to progress goes on and on.
The reign of humanism
These thinkers are so fundamentally humanist in outlook that they don't even acknowledge their anthropocentrism.  Harari expends a chapter in 'Homo Deus' on the plight of domesticated animals.  But nowhere is appreciation shown for the fact that such creatures – which exist in concentration-camp conditions with the sole purpose of sustaining humans, the elites atop the planetary food chain – now make up 97 odd per cent of living animal biomass.  Not so long ago, our biosphere was dominated by wild creatures whose raison d'etre wasn't just nourishment for sapiens sapiens.  Am I the only one who feels that is highly highly relevant here?  And the shrivelled remainder are suffering, suffering terribly, under the relentless human march that the past few centuries have wrought in ever greater volume and diversity.  That these considerations hardly ever feature in the calculus of 'progress' is more than just unfortunate – it is symptomatic of the reigning humanist doctrine.
Short-term gain for long-term pain
It's also worth considering that the Industrial Revolution ushered in a window of opportunity to live on borrowed time, that is, the future.  These writers make scant reference to climate change, and the epidemic of plasticization is, as far as I recall, not treated by any of them.  What if all these gains, if we accede that that is what they are, come at a great cost not just on the non-human world, but also on future humans?
The Age of Estrangement
Could it be that estrangement from Nature is the fuel at the heart of ressentiment?