(Written 1920s, published 1969) Eugène Marais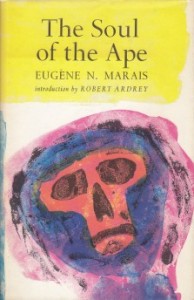 The Soul of the Ape shows what a tremendous difference a polished edit can do for the conveyance of ideas.  The work was put together by Robert Ardrey, Marais' tireless exponent, from an unfinished manuscript found many years after the author's suicide.  This makes it hard to hold many of Marais' ideas up to the light.
Why what Marais has to say about baboons might interest us
Marais' isolated existence in a narrow kloof in South Africa's Waterberg Plateau in the 1920s had two important consequences.  The first was that, despite his rigorous scientific training, he remained untouched by the influence of scientific work being done elsewhere.  The second was that his subjects, a large troop of Chacma baboons, were largely untainted by human contact – outside of their doings with Marais himself.  Because of the location of Marais' hut, the baboons had no choice but to pass the astute observer every morning on their way out in search for food, and every evening on their way back to the home cave.  Marais was a gifted naturalist who was able to carry out a detailed study of primates under highly favourable conditions before 'primate science' existed.
Some of Marais' thoughts
Marais' key hypothesis is quite straightforward: so-called 'subconscious' behaviour in humans is nothing more than the vestige of 'primal instinct', which Marais calls 'phyletic' (= inherited) memory.  This stands distinctly apart, Marais reasons, from behaviour governed by 'individual causal memory'.  The latter finds its fullest expression in humans, is less manifest in other primates, and completely absent in insects such as ants, for example.
Marais also had some rather radical things to say about evolution, where he laid stress on deselection rather than selection. He saw the evolutionary process largely as a drive towards specialization, where he had adaptations towards a particular environment foremost in mind.  Indeed, so important was the role of specialization for him, that he regarded the development of individual causal memory – which unshackles species from particular settings – as nothing less than a break from natural selection(!).  On several occasions, this weakened role of natural selection is compared to that operative amongst domesticated animals; I confess that like several things in the book, this comparison has remained intractable to me.
Marais further observed that it was largely those members that are 'average' that enjoy the providence of evolutionary success – the further the apple falls from the tree, in phylogenetic and behavioural terms, the more harshly does natural deselection generally do its pruning.  For Marais, this explains why it is so much harder to speak of 'average' humans or baboons than it is to speak of 'average' horses or gadflies: the development of individual causal memory protects the former from the homogenizing influence of evolution's pruning scissors.