with Emi Maclean, in The Washington Spark [July 2005]
The announcement of the U.S. President's Emergency Plan for AIDS Relief (PEPFAR) was met with both eagerness and skepticism when it was first announced by President Bush during the 2003 State of the Union address. The plan promised, for the first time, a commitment to attack the deadly AIDS scourge with more than just measures of prevention. Explicitly, PEPFAR promised $15 billion over five years to provide care and treatment for HIV/AIDS in fifteen severely affected countries. Activists, medical professionals, and the HIV affected expressed concern about what was left unsaid, however. As plans have solidified, at least on the front lines of the epidemic, skepticism has now largely overtaken much of the initial agerness.
Take the 15th International AIDS Conference held in Bangkok, for example. Randall Tobias, still fresh in the newly created shoes of 'U.S. Global AIDS Coordinator', faced a furious crowd. The view from the speaker's platform was largely obscured by a foamy sea of white "HE'S LYING" placards. (Check out his speech and subsequent interview on www.kaisernetwork.org).
Those close to the epidemic are most critical of the plan's allegiance to  industry interests, its threat to comparable multilateral initiatives, and its insistence on forcing a controversial moral agenda.
Sharonann Lynch, at the Health Global Access Project (GAP, www.healthgap.org), typifies the view taken by many experts on both sides of the equator: "What the Office of the Global AIDS Coordinator describes as innovative strategies […] are instead incredibly short-sighted and simplistic."
The Big Pharma Agenda
The skepticism of those affected by the disease is not surprising. The Pharmaceutical Research and Manufacterers of America (PhRMA) is the most powerful lobbying group in the U.S., exerting significant influence over the U.S. trade and domestic policy agenda. There have been few attempts to hide Big Pharma influence within PEPFAR. Tobias himself, who was sworn in with the rank of Ambassador in October 2003, was voted "Pharmaceutical Industry CEO of the Year" by the Wall Street Journal in 1995 when he was Chairman, President, and CEO of the pharmaceutical giant Eli Lilly.
One of the most consistent criticisms of PEPFAR is its reliance on patented drugs rather than less expensive generic antiretroviral drugs (ARVs), already proven to be effective and in use in parts of the developing world, including India and Brazil. Health Action International (HAI, www.haiweb.org) founder Wilbert Bannenberg estimates that the branded products required by PEPFAR cost, on average, thrice that of equally good generic alternatives.
Pharmaceutical companies have fought fiercely to prevent the approval of generic drugs for use in the developing world—toughening intellectual property protections in bilateral and multilateral trade agreements and challenging country attempts to produce or distribute generic drugs for their populations. PEPFAR funds can only be used to purchase and distribute drugs that have been approved by the U.S. Food and Drug Administration
(FDA). The Bush administration contends that this is for safety and quality purposes. In 2004, the FDA announced an expedited process to approve some antiretroviral therapies "so that high quality drugs can be made available."
However, critics argue that the obstacles posed by intellectual property laws should not delay the use of generic drugs in countries where the AIDS epidemic is raging. "It is the World Health Organization, and not the US Food and Drug Administration, which has the mandate to set international standards for quality, safety, and efficacy" read a Médecins Sans Frontières
statement in May 2004.
One African organization that has been outspokenly critical of PEPFAR is the Nairobi-based Ecumenical Pharmaceutical Network (EPN, www.epnetwork.org). As EPN's Dr. Eva Ombaka points out, "PEPFAR's insistence on FDA approval for all medicines purchased and the 'Buy American' requirement for medicines other than ARVs, causes needless delay in making life-saving drugs available."
EPN's criticism goes deeper than just inefficiency, however. For one, having different brands of the same drugs leads to wasteful complications for already overburdened healthcare systems. Of further concern is the fate of small domestic industries, since the insistence on FDA-approved drugs will threaten the existence of tried-and-tested drug supply chains. (Many African countries currently locally produce low-cost drugs against opportunistic infections associated with HIV/AIDS). In the long-run, the eventual suspension of PEPFAR may leave a veritable chasm in its wake.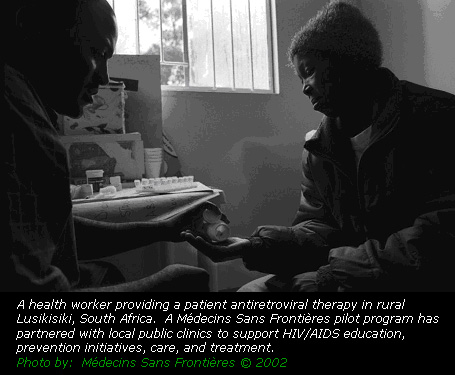 Conclusion
Over the last two decades, Africa has of course not stood limply by in the face of the AIDS pandemic. Unfortunately, PEPFAR is staunchly unilateral, to the extent that it will likely undermine other international and local efforts. Its implementation promotes the extensive use of U.S. skills, personnel and institutions to the detriment of readily available local expertise, often with a greater understanding of relevant issues in their local contexts. "There must be lessons to be learnt locally rather than exporting methods from developed countries," says Associate Professor Billy Futter in the Faculty of Pharmacy at Rhodes University in South Africa.
Under the circumstances, it's hard for anyone not to be suspicious of the influence of pharmaceutical giants, who stand to benefit greatly from the arrangement. Mr. Bannenberg is not alone in believing that "Tobias is going for the Big Pharma agenda. What this world really needs is a global collaboration." Does PEPFAR, then, do more harm than good? "No," Mr. Bannenberg told the Spark, "we definitely need all the help we can get in Africa."