Marshall Sahlins (2008)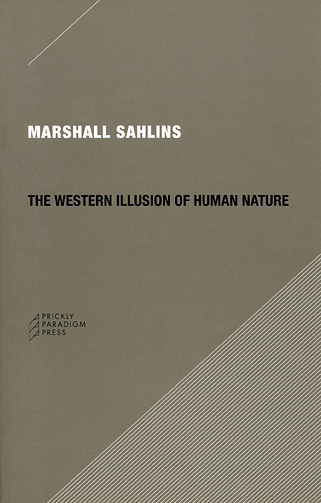 "One has to ask, if man really has a pre-social, anti-social animal disposition, how has it happened that so many peoples remained unaware of it, and lived to relate their ignorance? Many of them have no concept of animality whatsoever, let alone of the bestiality supposed to be lurking in our genes, our bodies and our culture. Amazing that, living in such close relations, with so called 'nature', these peoples have neither recognized their inherent animality, nor known the necessity of coming to cultural terms with it."
– Marshall Sahlins in The Western Illusion of Human Nature.
"The manner in which the modern Occident represents nature is the one thing in the world the least widely shared. In numerous regions of the planet, humans and non-humans are not conceived as developing in the incommensurable world, according to distinct principles. The environment does not consist of objectivity as an autonomous sphere; plants and animals, rivers and rocks, meteors and seasons, do not exist in the same ontological niche defined by its lack of humanity."
– Philippe Descola, Tour du Monde, quoted in Sahlins'  The Western Illusion of Human Nature.