In Ruckus [Vol. 7, Iss. 4, February 2004]

George Dubya Bush (a.k.a. 'Baby Bush') is one of the best things to have ever happened to this country. Please, give me a chance to elaborate before skipping over to the section on democratic candidates or chucking this month's copy of Ruckus into the nearest Mixed Paper™ recycling bin in disgust.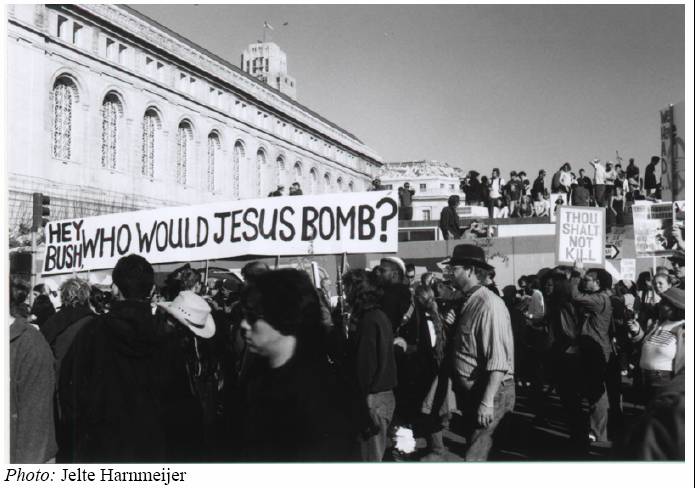 Look – the world has never been more awake! The largest peace protests in history, from Amsterdam to Bangkok to the roof of the Sydney Opera House. A rapidly growing global network of environmentally and morally active citizens. Growing awareness of Western-backed atrocities in the Middle-East and elsewhere. Brazilian airline pilots that dare give US hegemony the finger. Worldwide, people are rethinking the way their lives and their governments are screwing over their brothers and sisters on the other side of the globe. And all largely thanks to Dubya and his buddies!
Alright, people, I realize that traveling today is more dangerous for you than ever before. Hell, even the age-old trick of sticking Canadian flags onto your backpacks isn't going to help you now! I know Dubya is the first president since Hoover who actually managed to eliminate more jobs than create them. I'm also all too aware that your government is in the red for 3.02 x 1012 dollars (the fact that I'm forced to resort to scientific notation here should be some indication of how serious the national debt is. Good thing the US$, thanks to Ol' Dubya, is hardly worth anything anymore, hey!).
So the economy is in shambles, the world hates Americans, the United Nations and everything it stands for has been irreparably raped, your government has started making nukes again, and people will soon start using your famed Greenbacks™ as toilet paper or to get their fireplaces going. And that, of course, is still the good news…
…but please bear with me on this. Voting for some temporary grassroots green-haired spliff-smoking hippie might make you feel real warm and fuzzy inside for four or even – if you're lucky – eight years. Perfect. Just long-enough for the next brainless right-wing oil-lobby-supported yoyo to take over and finally get rid of those damn Canadians who've been clandestinely amassing huge quantities of Biological Weapons right across the border.
(If only we'd found just one Mad WMD Cow™ in Iraq to appease those damn liberals, eh? Colin Powell: "This CIA satellite photo, taken just 20 miles outside Baghdad, clearly shows a mad cow. Gentleman, we have found the smoking gun" (ecstatic applause). But I digress.)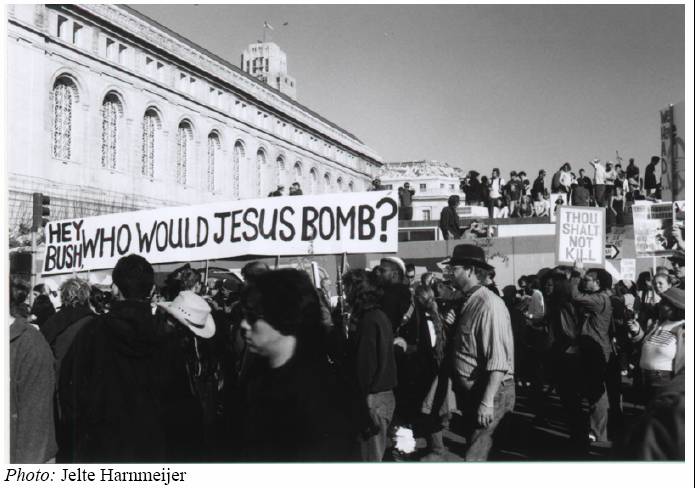 Dubya is not the root of the problem. I mean, come on, he's way too backward to deserve any credit for most of the present administration's blunders. My point is that even electing a whole century-worth of democrats is not going to improve your grandchildren's lives. (Even if you do somehow manage to stamp out the true legacy of Dubya's reign, which will lie in the judiciary rather than in the executive or legislative branch. That's where the power's really at. Did anyone else notice the Federal, D.C. and other Circuit courts filling up with hard-line conservatives? Under the current system, it'll take decennia to kick those guys out!)
The problem, rather, lies with the deeply anchored class-based society and suffocating two-party system that today shackles America. An intricate feedback system in which corporate media and atrocious standards of pre-collegiate education intertwine to give the illusion of a full spectrum of 'democracy' with just two end-members: republicans and democrats. Right-wing and right-wing without the strawberries. Will the real Gee Dubya please stand up? – George Washington would have been ashamed. Read any of Jefferson's work and you'll inevitably find yourself asking: "What the hell happened!?"
Democracy indeed. Vote and forget. You've done your duty. Go ahead, spend the equivalent of another presidential term blamelessly shopping for cheap groceries after finishing your daily job at the bank, taking the dog for a walk on Saturdays and cleaning your car on Sundays. While your CO2 is screwing up the planet, the Dole™ bananas you buy and the Starbucks® latté you sip are destroying the lives of thousands and your government is killing – indirectly or directly, I don't care – the people upon whose very shoulders your welfare has come to rest.
WAKE THE FUCK UP! DO YOU REALLY BELIEVE YOU DESERVE YOUR FANCY NEW DVD PLAYER BECAUSE YOU WORK HARDER THAN THE REST OF THE WORLD!? HUH!? TRY WAKING UP ON WEEKENDS AT 5 AM AND WALKING 5 MILES BAREFOOT TO YOUR 5 CENTS-AN-HOUR JOB AT THE NIKE® FACTORY OR SPILLING BLOOD FROM YOUR CUT HANDS INTO A CAN OF TUNA IN A CANNING FACTORY, DESPERATE TO MAKE THE QUOTA!
Vote for Dubya. He's our only hope.
Turning and turning in
the widening gyre
The falcon cannot hear the falconer;
Things fall apart; the centre cannot hold;
Mere anarchy is loosed upon the world,
The blood-dimmed tide is loosed, and everywhere
The ceremony of innocence is drowned;
The best lack all convictions, while the worst
Are full of passionate intensity.
Surely some revelation is at hand;
Surely the Second Coming is at hand.
The Second Coming! Hardly are those words out
When a vast image out of Spiritus Mundi
Troubles my sight: somewhere in sands of the desert
A shape with lion body and the head of a man,
A gaze blank and pitiless as the sun,
Is moving its slow thighs, while all about it
Reel shadows of the indignant desert birds.
The darkness drops again; but now I know
That twenty centuries of stony sleep
Were vexed to nightmare by a rocking cradle,
And what rough beast, its hour come round at last,
Slouches towards Bethlehem to be born?
Y.B. Yeats – "The Second Coming"