(2010) Christopher Ryan & Cacilda Jethá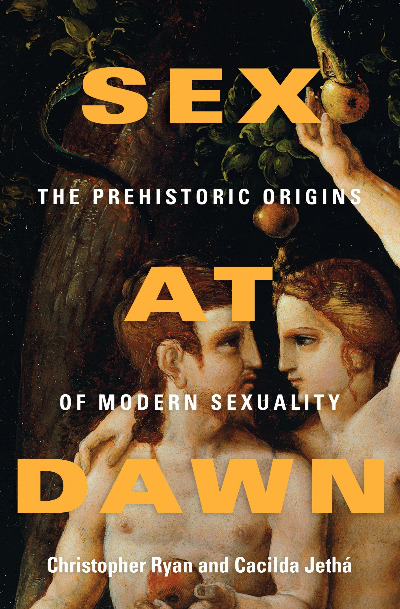 So.
So this is a rather ballsy work.  In varying depth, Ryan & Jethá aggressively attack several scientific consensuses, all orbiting within the broad ambit of human sexuality.  A light-hearted writing style makes this a highly accessible work.  Below, I focus on some of the key assertions and arguments of interest.

Primary amongst the traditional views attacked, and the books main target, is the idea that humans evolved from a monogamist prehistory – a period the authors peg as the 200,000 years immediately prior to agriculture and writing. (It is interesting to note how this disparate pair of technologies is often conjoined by use of this sense of the term).  In strong contrast to todays western nuclear family, the authors posit that "the 'natural' family structure of our species" is one that enjoys "easy acceptance between adults and unrelated children, the diffuse nurturing found […] where children refer to all men as father and all women as mother, […] small and isolated enough to safely assume the kindness of strangers, where overlapping sexual relationships leave genetic paternity unknowable and of little consequence …".  The modern pair-bond is painted as a distortion brought about by recent transition to sedentary agriculture.
To support their outlying view of multiple male-female intercourse as 'natural' human sexual behaviour, the authors have to do three things: (i) paint a correspondingly untraditional picture of hunter-gatherer ('immediate-return') societies in which such behaviour would arise and be stably maintained, just as the evolution of monogamy many take as characteristic of our species [in my view uncritically] is often supported by stories such as 'when climate change caused savannas to spread at the cost of shrinking forests in eastern Africa, longer hunting distances motivated absent males to enter into proto-marriages' [my summation]; (ii) explain how such behaviour would fit the more mechanical chapters of the Darwinian narrative – how would natural selection operate, if the standard sexual selection story in which males compete with one another for females is false?; (iii) garner any empirical evidence they can find.
Immediate-return Society

Compared to sapiens modernicus, were anatomically modern paleolithic peoples war-faring?  Did they have much spare time?  How old did they get? How much power did women wield?  To these questions about key aspects of bygone foraging days,  the authors come out strongly in favour of a relatively peaceful, egalitarian and long life in societies more matriarchal than typically encountered today.  With the exception of their discussion of prehistoric longevity, the authors bring insufficient evidence and references to bear, and tend towards downplaying the depths of controversies.
Their case for paleolithic matriarchy, for example, is limited to the assertion that anthropologists have been blinded in their search by looking (unsuccessfully) for a mirror-image of patriarchy, an image in which oppression of men by women is evident.  In contrast to anthropological consensus, we are told, true matriarchy is  and was widespread in foraging societies, but has remained obscured from academic view because female power manifests itself in different ways than that of males.  This interesting and promising argument is greatly in need of elaboration and support, whose absence is understandable given the authors academic backgrounds.
Natural Selection and Multiple Pair Bonding
Prior to the distorting influence of agricultural life, natural selection was largely fought out during and after intercourse, through sperm competition, or so it is asserted.  This explains, it is contended, several traits of humans that flatly contradict the monogamist paradigm: unusually loud female sexual vocalization (a call to other other males to join in on the fun), functions of ejaculant (biological warfare agents against competitor sperm), and penis physiology (a sperm-removal tool), to mention a few.
Empirical evidence

Because the archaeological and palaeontological records stand  largely mute in the face of questions concerning past behaviour, the authors have to look elsewhere.  In addition to physiological arguments mentioned previously, heavy weight is placed on comparisons with other primates, particularly our closest extant – and highly sexual – relatives.  A few case studies of sexual openness in the anthropological record, including the famous Mosuo from southwest China, are also brought to the table.

Is marriage 'natural'?
For marriage to be 'natural', within the Darwinian narrative, it must constitute an arrangement in which the survival and reproductive prospects of progeny are maximized.  According to the standard narrative, sex and the commitment of resources represent gender-specific incentives in what then becomes something like a biological bartering mechanism.  Extra-marital affairs threaten each partners 'evolutionary success': a threat to the husband because they would cast doubt on his paternity, a threat to the wife because they would endanger her (and any infants) resource security.  In this picture, marriage represents something akin to a compromise position between a female proclivity towards mating with fitter males and a male proclivity towards sexual opportunism.  These assymmetric proclivities are rooted in our species sexual dimorphism, and imbue human heterosexuality with an ever-present inner tension.

For my own part, since the age of sixteen, I have only once entered into a strictly monogamist ('closed') relationship, and did so only after mounting pressure from my female partner.  From what I have observed in my own relationships and those of others around me, it has usually [I stress: usually] seemed that women tend to pay the price for 'open' arrangements.  That is, it has more often been the women that compromise in response to male partners' request for sexual openness.  This part of the standard narrative at least enjoys the support of sociological studies.
In a section disappointingly barren of references, Ryan & Jethá gloss over contemporary women's self-reported preference for monogamy by writing of womens sexual pliability: unlike men, whose sexual desire gets rigidly imprinted in youth, women's sexuality supposedly molds fluidly in response to sexual culture – and in sedentary life, this means monogamy.  (All this is vague and problematic, and worked out in insufficient detail: sedentary agriculture leads to property ownership which leads to hierarchization which leads to [how?] male domination, and somewhere along the way the squirreling of resources makes monogamy the only viable option.)  All the while, however, men are cursed with an unsuppressible taste for novelty: "To avoid genetic stagnation that would have dragged our ancestors into extinction long ago, males evolved a strong appetite for sexual novelty and a robust aversion to the overly familiar."  And voilà , out comes modern life, with its astronomical divorce rates, internet pornography 'epidemic', and unhappy and bored marital couples.

In my view, the forgoing is the weakest part of the edifice.  Within this new framework, why would men be more driven towards novelty than women?  And how is this to be reconciled with supposed sexual versatility and rigidity in females and males respectively?  And how then to explain how these latter traits arise?  All of this is not to say that Ryan & Jethá may not be right in asserting that it is security and stability, rather than monogamy per se, that guides female sexual choice.  That is a tempting hypothesis.
Altogether, the authors success at pointing out glaring inconsistencies in the standard narrative of human sexuality is highly commendable.  Meanwhile, the alternative narrative they offer as a replacement is thought-provoking, ambitious, and as yet incomplete.